The Biggest Challenges For Auto Repair Shops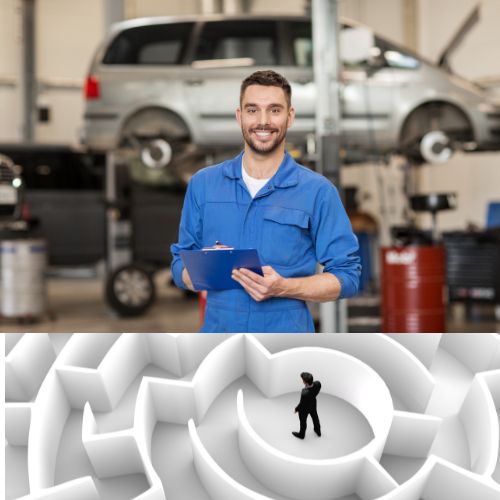 Auto repair shops continue to rely on maintenance services for growth. This is due to reduced new car sales during the pandemic and advances in vehicle technology.
However, there are many challenges for repair businesses to overcome. Let's take a look at the top five. They include:
1. Lack of Technical Mechanics
There is a widening gap between the number of skilled mechanics in the industry and the work that needs to be done. As a result, shops are having to back-log their schedules while also finding it difficult to keep up with warranty and insurance work. Customers can be forgiven for looking elsewhere at a repair shop the moment they experience even the slightest quality compromise, making ensuring the shop's mechanics have the resources they need to do their job well crucial to customer satisfaction and loyalty.
Mechanics are not as interested in working in auto repair shops as they once were. This is due in large part to the fact that many people feel they can learn anything on their own from YouTube videos, which can make automotive repair seem less like a legitimate career choice and more of an interest hobby. This type of thinking could be one reason why technicians have a hard time attracting new talent to the industry.
A lack of interest in auto repair can be a serious problem for any shop. This is why it is important that they do everything they can to promote a positive working environment for their team. This includes providing a comfortable workspace all year round, keeping the garage clean and having an organized inventory with parts and tools easily accessible. This is a great way to show your team that you care about them and that will help boost morale.
2. Unfamiliarity with Marketing
For those who have never been in the automotive repair industry, it can seem daunting and overwhelming to try and grow your customer base. After all, you need to have the right tools and parts in order to complete repairs and keep your customers happy. You also need to know what to look for when analyzing your sales to optimize your profit margins.
If you're unsure where to start, here are some simple strategies that can really help you out when starting an auto repair shop. to grow their business and profits. Creating an email list and sending out car-care tips via email is a great way to connect with your current customers and encourage them to return. You can also use social media to promote special deals and promotions that your customers can take advantage of.
Another good strategy is to build a presence in your local community. Attending community events, such as local festivals and town-wide celebrations, is a great way to meet potential new customers. You can also display your name and logo at these events, which will help to build brand awareness and generate trust.
Finally, you should be sure to analyze the effectiveness of your marketing campaigns on a regular basis. This will help you to identify which strategies are working and which ones aren't. Using tools like Tekmetric's Discounts Report and End of Day Report will help you to gain valuable insight into your sales data so that you can make the best decisions for your business.
3. Lack of Capital
In addition to investing in equipment, hiring skilled employees and implementing effective marketing strategies, securing adequate financing and capital is essential for auto repair shops. Whether seeking funding from traditional bank loans or innovative approaches like crowdfunding and peer-to-peer lending, it's important to have a comprehensive business plan with accurate financial projections. This not only increases your chances of securing financing, but also provides lenders and investors with valuable insight into your shop's potential.
As a result of increased car prices, higher interest rates and a shortage of available vehicles, more people are holding onto their vehicles longer. This means there's a greater demand for repairs, which can put strain on the budget.
A lack of funds can also make it difficult to invest in new equipment, hire additional staff and keep up with technological advancements. This can affect the quality of your work and cause customer satisfaction to decline.
Aside from addressing the above-mentioned challenges, auto repair shop owners should make sure to obtain business insurance and commercial property insurance to protect their assets and finances. Additionally, they should be aware of the competition and what their strengths and weaknesses are so they can capitalize on opportunities. The best way to do this is by networking and fostering strong relationships within the industry. By following these simple tips, auto repair shop owners can boost their revenue and profits.
4. Low Work Morale
In a repair shop, technicians are the lifeblood. If they aren't happy, the business will stall out. The best way to keep your team happy is to provide them with incentives and help them grow in their careers. You should also work to maximize the number of cars you can get through per day without sacrificing quality.
It's a good idea to have some sort of centralized ordering process so that your technicians can grab the parts and tools they need quickly. Also, keeping the shop clean and organized can go a long way in helping your techs stay focused. Not only will this help your techs, but it will make customers feel better about bringing their car in for service. After all, it is crucial that you establish a customer loyalty so that they bring their car into your shop particularly and not just the closest auto repair shop they can find by their work or home.
Another great way to boost your techs' morale is to offer them the opportunity to advance in their career by providing time and money for training. This can be a huge benefit to your shop as it will make your techs more valuable and employable in the future. You can even provide financial incentives such as bonus pay for every ASE certification they earn.
Investing in your shop's equipment and inventory is important, but the most important investment you can make is in your employees. Your techs spend 40 hours a week in the shop, so it's important to create a culture that is uplifting and encouraging. This will help them feel connected to the shop and more likely to stick around for the long haul.
Auto repair shops continue to rely on maintenance services for growth. This is due to reduced new car sales during the pandemic and advances in vehicle technology. However, there are many challenges for repair businesses to overcome. Let's take a look at the top five. They include: 1. Lack of Technical Mechanics There is a…
Recent Comments
No comments to show.